Stinger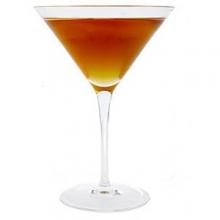 The origins of this drink are unclear, but it is mentioned as far back as 1917.  During the heyday of its popularity, the classic Stinger was considered an ideal "nightcap" for a night out in New York.
Ingredients:
1 1/2 oz brandy
1/2 oz white creme de menthe
Preparation:
In shaker glass with ice pour in crème de menthe and brandy.  Shake well and strain into a chilled cocktail glass.