Sparkling Hibiscus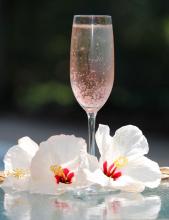 So simple and easy - Great for a Bridal Shower, Wedding or afternoon get together.  This is a light low proof cocktail that your guest will reallly enjoy.  
Ingredients:
6 oz Prosecco
1 oz Hibiscus Simple Syrup (made with simple syrup with dried Hibiscus tea seeped into the syrup)
Preparation:
Directions
Pour the simple syrup into the bottom of a champagne flute and fill with Processo or sparkling wine.