Southern Bride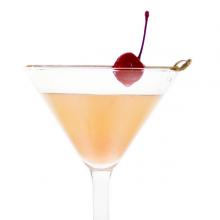 This drink is all about sweet with an underlying tartness, much like a Southern Bride! This is a drink that is deceptively light, with 3oz of gin you need to be a little careful on how much you knock back.
Ingredients:
3 oz Gin
1 tsp Maraschino Liqueur
2 oz Grapefruit Juice
Preparation:
Pour all ingredients into a shaker glass filled with ice.   Shake well and strain into a chilled cocktail glass.  Garnish with a cherry.