Smores Martini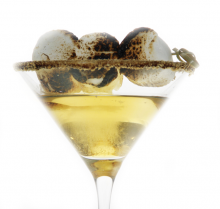 The best part about camping in a drink! S'mores Martini is a fun drink that will make you want to sit in front of a fire with your socks off. Be careful or you may end up a little toasted after a few of these.
Ingredients:
2 oz Chocolate Vodka
2 oz S'mores Vodka
1 oz Toasted Marshmallow Syrup
Chocolate Syrup
Preparation:
Combine all ingredients into a shaker glass and shake well. Strain into a chilled cocktail glass that has been chilled in the freezer with chocolate syrup rim and then rolled in graham cracker crumbs.  Garnish with some toasted marshmallows!