Slow Gin Fizz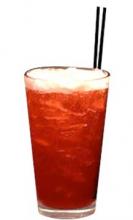 Sloe Gin is a red gin-based liqueur infused with sloe berries. It is usually bottled at between 15 to 30 percent alcohol by volume. The </strong>Sloe Gin Fizz is an off shoot of a series of drinks called Fizzes: Gin Fizz, Silver Fizz — addition of egg white, Golden Fizz — addition of egg yolk, Royal Fizz — addition of whole egg, Diamond Fizz — sparkling wine instead of carbonated water. More commonly known as a French 75, Green Fizz — addition of a dash of green crème de menthe.  These drinks originated in New Orleans in the late 1800's/early 1900's and became very popular in the 1940's.  While the Sloe Gin Fizz is very sweet it does pack a kick.
Ingredients:
1 oz sloe gin
1 oz gin
1 oz fresh lemon juice
1 oz simple syrup
Splash of soda water
Preparation:
In shaker glass with ice pour in sloe gin, gin, lemon juice and simple syrup.  Shake well and pour into a highball glass.  Finish off with a splash of soda water.  Garnish with a cherry.