Slow Comfortable Screw Up Against the Wall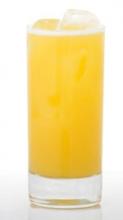 A variation on the Screwdriver, the Slow Comfortable Screw against the wall gets its name from the fact that it is a "screw"driver, it contains "sloe" gin, Southern "Comfort", and Galliano, which sounds something like a wall.  This variation has some unexpected nuances due to the Galliano and the Sloe gin.
Ingredients:
1 1/2 oz sloe gin
1 ½ oz Southern Comfort
3 oz fresh orange juice
½ oz Galliano for float
Preparation:
In shaker glass with ice pour in sloe gin and orange juice Shake well and pour into a highball glass.  Garnish with an orange wedge.