Singapore Sling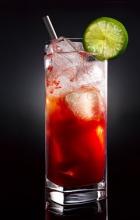 The Singapore Sling is a South-East Asian cocktail that was invented in the early 1900's by Ngiam Tong Boon, a bartender working at the Long Bar in Raffles Hotel Singapore. Originally made with Gin, Cherry Heering, Bénédictine, and fresh pineapple juice, primarily from regional pineapples which have a different flavor and when shaken create a foamy top on the drink.  While you don't need fresh pineapple juice using 100% juice that is not canned gives this drink a much better taste. If you want to go all out the flavor of fresh pineapple is easy to make if you have a juicer.  Most readily available pineapples are from Dole in Hawaii and are still very good but if you are a purist you can look for Sarawak pineapples which may be available at specialty produce houses or grocery stores like Fresh Market or Whole Foods.
Ingredients:
1 oz gin
1/2 oz cherry brandy
1/4 oz Cointreau® orange liqueur
1/4 oz Benedictine herbal liqueur
1/3 oz Monin Pomegranate Syrup
1 dash Angostura® bitters
4 oz pineapple juice
1/2 oz lime juice
Preparation:
Pour gin, cherry brandy, Cointreau, Benedictine, Pomegranate Syrup, bitters, pineapple juice and a squeeze of lime into a shaker glass with ice.  Shake and pour into a Collins glass and garnish with a lime wheel.