Sidecar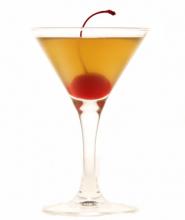 The exact origin of the Sidecar is unclear, but it is thought to have been invented around the end of World War I in either London or Paris. The drink was directly named for the motorcycle attachment.
Ingredients:
2 oz Brandy
2 oz Sour Mix
Splash of Triple Sec
Preparation:
Pour all ingredients into a shaker to chill Strain into a chilled sugar-rimmed cocktail glass.  Garnish with cherry.