Savory Tangerine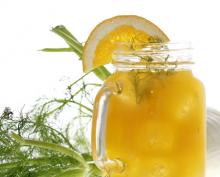 Savory Tangerine - A very different cocktail the Savory Tangerine is for those who like a little herbal flavor.  Using muddled fennel, Citrus Vodka, Blood Orange Liqueur and Tangerine juice this is a drink that is out of the ordinary.
Ingredients:
2oz Citron Vodka
1/2oz Blood Orange Liqueur
2 oz Tangerine Juice
1/2 oz Simple Syrup
Fennel
Preparation:
In a shaker muddle fennel then add  ice combine all remaining ingredients over ice.  Shake until chilled.  Strain into a glass with ice and garnish with a slice of orange and a piece of fennel.