Santa's Ice Tea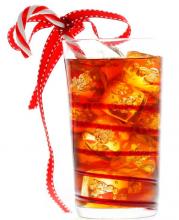 This is a great iced tea drink that could also be served warm.  We preferred it chilled but either way its a great cocktail.  The whiskey and the chai tea really complement each other and the cherry liqueur off set the spice notes and sweetened up the tea.  Yum is all we have to say.  Great winter drink!
Ingredients:
2 oz Whiskey
1 oz Cherry Liqueur
1 oz Dry Vermouth
4 oz Chai Tea
3/4 oz Fresh Lime Juice
Preparation:
Pour all ingredients into a shaker glass filled with ice.   Shake well.  Strain into a Collins glass over ice.  If you like your tea a little sweeter you can add ½ oz of simple syrup.