Salty Dog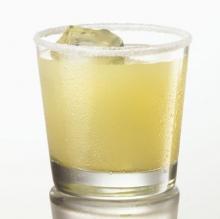 The Salty Dog is the vodka version of the Greyhound.  Most of these drinks are a riff on the drinks of the 1930's when fruit juices were used to mask the taste of sub-par alcohol due to prohibition.  A great summer drink with a salted rim and tang of grapefruit juice it is a drink for those of you who prefer salty over sweet.
Ingredients:
1 1/2 oz Gin or Vodka
5 oz grapefruit juice
1/4 tsp kosher salt
Preparation:
Pour all ingredients into a shaker glass filled with ice.  Pour into a rocks glass rimmed with salt and garnish with a lime wedge.