Salty Caramel Sour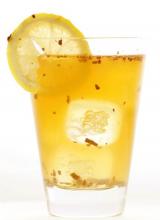 For the Rye drinkers in your group a fun and festive approach to a holiday cocktail.  You omit the candy if you want the caramel syrup does most of the work but that little hint of chocolate is really quite tasty.  Your preference.  
Ingredients:
1 1/2 oz Knob Creek® Rye Whiskey
3/4 oz Salted Caramel Syrup
3/4 oz Fresh Lemon Juice
Splash of Club Soda
Chopped Salted Caramel Candy
Preparation:
Pour all ingredients into a shaker glass filled with ice.   Shake well strain into a highball glass filled with ice and garnish with a lemon wheel and chopped candy.