Salted Caramel Martini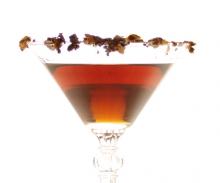 OMG, this is like drinking your favorite candy bar! Salted Caramel Martini is awesome if you you want something sweet and yummy. Vanilla Vodka, Frangelico and Kahlua along with some salted Caramel Syrup blend to perfection.
Ingredients:
2 oz Vanilla Vodka
1 oz Frangelico®
1 oz Kahlua®
1 oz Salted Caramel Syrup
Preparation:
Combine all ingredients in a shaker over ice and shake well. Rim chilled cocktail glass with chopped chocolate and caramel candy. Strain into glass.