Sake-tini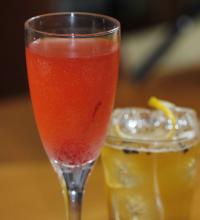 This is a very interesting drink, substituting in sake for the vermouth and then adding orange and cherry flavored liquors then top with Ginger Beer.  An unusual east meets west drink.  While it may sound strange the taste is very refreshing and somewhat addictive.  We made several just to get the proportions right and with each one we liked it more.  Or the Gin was talking... either way, for the adventurous mixologist! 
Ingredients:
2 1/2 oz Gin
1/4 oz Sake
1/4 oz Cointreau
1/4 oz Maraschino Cherry Juice
2 oz Ginger Beer
Preparation:
In shaker mix Gin, Sake, Cointreau and Cherry Juice over ice and shake until well chilled.  Strain into a chilled champagne flute with a cherry in the bottom and top with Ginger Beer.