Sake Cucumber Cooler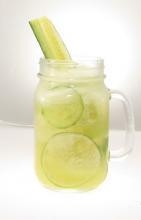 A refreshingly light drink, the Sake Cucumber Cooler is a great drink to pair with some light eats.  The use of sake makes it perfect to go with your Asian themed menu.
Ingredients:
3 oz of Sake
1 oz of Lime Juice
1/4 Cucumber pureed
Club Soda
Preparation:
Mix all ingredient except club soda in a shaker with ice.  Shake well.  Strain all ingredients into glass with ice.  Fill with club soda.  Garnish with lime slices and a cucumber spear.