Russell's River Ribs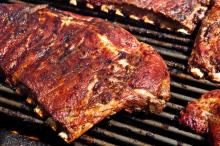 From a trip up the river with friends, Russell threw all the seasoning he had in a bag and then rubbed them into the meat before throwing them on the grill to cook. The combo of spices and soy sauce was amazing and hence became Russell's River Ribs. Only be enjoyed with a frosty adult beverage in your hand!
Ingredients:
1 rack baby back ribs
Seasoned pepper
Seasoned salt
Garlic salt
Pepper
Hawaiian Sea Salt
Soy Sauce
Preparation:
Blend equal parts of all the seasoning together depending on the amount of ribs. You can always keep the extra for the next time. Sprinkle liberally over meat and rub in to the meat on both sides. Then pour soy sauce over the meat rub in again. Let sit for about 1/2 hour. Grill over low heat turning occasionally for about hour. Make sure to put a bone bowl on the table they go fast.