Royal Flush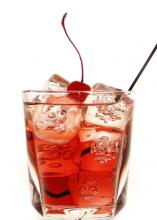 "The perfect card game drink, Royal Flush is a great get the guys together drink. Don't let the fruity flavors fool you this one packs a punch.
Ingredients:
1 ½ oz Crown Royal ®
1 oz Peach Schnapps
1/2 oz Raspberry Liqueur
1 oz Cranberry Juice
Preparation:
In shaker glass with ice pour in all ingredients. Shake well and pour into a highball glass. Garnish with a cherry.