Rob Roy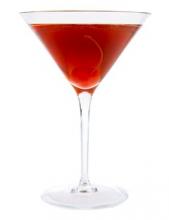 The Rob Roy is a cocktail created in 1894 by a bartender at the Waldorf Hotel in New York City. The drink was named in honor of the premiere of Rob Roy, an operetta by composer Reginald De Koven and lyricist Harry B. Smith loosely based upon Scottish folk hero Robert Roy MacGregor.  
Like a Manhattan, the Rob Roy can be made sweet, dry, or perfect. The standard Rob Roy is the sweet version, made with sweet vermouth. A dry Rob Roy is made by substituting dry vermouth for the sweet vermouth, this is not usual. A perfect Rob Roy is made with equal parts sweet and dry vermouth.  Overwhelmingly, the Rob Roy is made with sweet Vermouth.  
The Rob Roy is usually served in a cocktail glass and granished with a maraschino cherry (for the sweet version).  Funniest use of this drink in a move is the 1970's movie "Turning Pointe" where the heroine goes on stage after being dumped and drinking a half a dozen of these.  Drunk ballerinas are always funny.
Ingredients:
2 ounces blended Scotch whisky
3/4 ounce Italian vermouth
1 dash Angostura bitters
Preparation:
In shaker filled with ice pour in all the ingredients and shake well till chilled.  Pour into a chilled cocktail glass with a cherry.