Red Silk Panties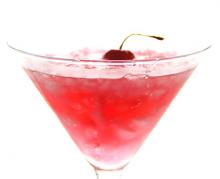 Just like actual Red Silk Panties, this drink is smooth and may have you thinking less that pure thoughts, enjoy!
Ingredients:
1 1/2 oz Vodka
1/2 oz Peach Schnapps
1 oz of Cranberry Juice
Crushed Ice
Preparation:
Pour all ingredients into a mixing glass, stir, strain into a martini glass filled with crushed ice.   Garnish with a cherry.