Red Berry Sangria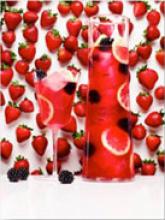 A drink from our friends at Ciroc, the Red Berry Sangria is a great party drink that may be just a little too easy to drink! Sweet and fruity this drink is perfect for a casual gathering of friends or even a great way to impress new ones!  If you want to make a single serving divide all of the amounts by 10.
Ingredients:
10 oz Ciroc Red Berry
10 oz Rose Wine
5 oz Fresh Lemon Juice
5 oz Simple Syrup
20 oz Berry Tea
Preparation:
Stir over ice in a 64 oz pitcher, add fresh berries to taste.