Raspberry Wonder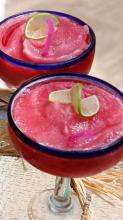 Great Cocktail for 2!  The Raspberry Wonder is a little tart and refreshing.  It is great for parties by the pool or just something to cool you off after dinner.  Fun to sip and enjoy!
Ingredients:
4 oz Absolut® Raspberry Vodka
2 oz Raspberry Liqueur
2 Ice Cream Scoops Raspberry Sorbet
2 oz Fresh Lemon Juice
Preparation:
In a blender with ice add all ingredients.  Blend till frozen adding more ice or lemon juice as needed.  Pour into 2 glasses and garnish with lime twist.  Makes 2 cocktails.