Raspberry Noel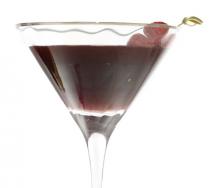 Raspberries and chocolate, what can go better for the holidays?  We love the Trader Vic's Chocolate Liqueur if has the taste of chocoate and blends really well with the Raspberry Vodka and fresh raspberries.
Ingredients:
2 oz Raspberry Vodka
1/2 oz Raspberry Liqueur
1/2 oz Trader Vic's® Chocolate Liqueur
1 oz Pomegranate Juice
Fresh Raspberries
Preparation:
Pour all liquid ingredients into a shaker glass filled with ice.   Shake well strain into a chilled cocktail glass. Garnish with fresh raspberries on a pick.