Ramos Fizz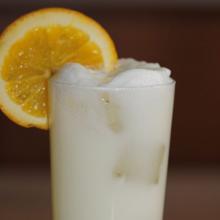 A very old drink the Ramos Fizz has been around since 1888, however, it became widely available in the mid 1930's. A more labor entensive drink with multiple ingredients, it is fun to make and drink. One of the best parts is watching the foam appear on the top of the drink as you add the sparkling water!
Ingredients:
3 oz Gin
1/2 oz Fresh Lemon Juice
1/2 oz Fresh LIme Juice
1 tsp Super Fine Sugar
1 tsp Heavy Cream
3 – 5 dashes of Orange Flower Water
1 egg white
Sparkling Water
Preparation:
Pour all ingredients, except sparking water, into a shaker glass filled with ice.   Shake well, about 2 minutes, and pour into a Collins glass add sparking water and stir gently.