Purple Crayon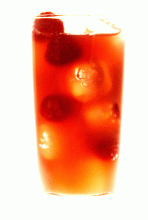 Sweet and light, Purple Crayon is a light drink that you can drink all afternoon and still stand up at dinner! Fruity and fun, perfect for any social occasion.
Ingredients:
2 oz Chambord®
Splash Vodka
2 oz Pineapple Juice
Fill with Sour mix
Preparation:
Pour all ingredients into a tall shaker with ice, shake well, pour into a tall Collins glass and garnish with fresh raspberries.