Pumpkin Pie Martini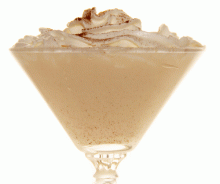 This is amazing, it's pumpkin pie with a kick. If you love pumpkin pie with a scoop of ice cream and a sprinkle of cinnamon, you will love, love, love this drink. Pumpkin Pie Martini is like fall in a glass. Enjoy!
Ingredients:
2 oz Pumpkin Vodka
1 oz Vanilla Vodka
1/2 oz Pumpkin Syrup
1/2 oz Heavy Cream
Preparation:
In a shaker with ice add all ingredients and shake well. Strain into chilled cocktail glass and top with whipped cream and a sprinkle of ground cinnamon.