Prosecco Punch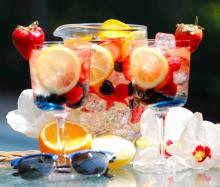 Fun light and great by the pool, the combination of flavored vodka and Prosecco is refreshing.  Lots of fruit makes for an attractive cocktail to serve at a party or afternoon with friends.  Great to mix up the night before and just add the Prosecco just before serving.  Enjoy!
Ingredients:
1 cup Absolut® Hibiskus
2 750 lt bottles of Prosecco
¼ cup Hibiscus Simple Syrup (made with simple syrup with dried Hibiscus tea seeped into the syrup)
Blueberries, Lemons, Oranges, Raspberries and Strawberries
Preparation:
In a pitcher mix Absolut® Hibiskus and simple syrup.  Add blueberries, raspberries, strawberries and sliced lemons, oranges.  Mix well with a spoon.  Add ice and right before serving pour in 2 bottles of chilled Prosecco.  Fill glasses with fruit and ice and garnish with a strawberry.  Serve!