Point Of No Return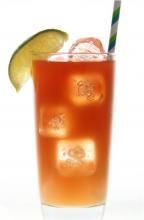 Sweet and simple the Point of No Return is a perfect summer drink that transports you to your own personal tropical island... well maybe not literally but you sure will feel like you have been.
Ingredients:
1 1/2 oz Bacardi® Gold Reserve
Splash of Sloe Gin
Juice of 1 fresh lime
4 oz Pineapple Juice
Preparation:
Mix well in a shaker with ice and pour over ice in a
C
ollins glass.  Garnish with a lime wedge.