Pink Lemonade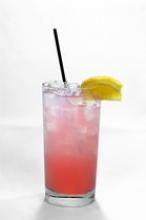 Pink Lemonade is everything a good summer drink should be.  Clean and crisp with a touch of raspberry liqueur makes this drink very drinkable on those hot summer days.  A nice kick with the Citron flavored Vodka makes this a drink you should keep all the ingredients on hand for all summer long.
Ingredients:
1 1/2 oz Absolut® Citron vodka
1/2 oz Chambord® raspberry liqueur
2 oz fresh squeezed lemonade
Preparation:
In shaker glass with ice pour in Vodka, Chambord and Lemonade.  Shake well and pour into a collins glass.  Garnish with a lime wedge.