Pimm's Cup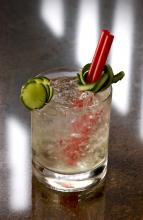 Pimms Cup is made with Pimms No. 1 which came about in the mid 1800's. In a London oyster bar in the 1840s owner James Pimm invented the thirst-quencher. Using gin, quinine and a secret mixture of herbs, good old Pimm served up the brew as an aid to digestion, dishing it out in a small tankard and the No. 1 Cup moniker was born. Still a great drink that has a calming effect on your digestion and an easy taste.
After the Second World War, Pimms extended their range, using a number of other spirits as bases for new cups. Scotch lent its name to No. 2 cup while No. 3 used brandy, No. 4 rum, No. 5 rye and No. 6 vodka. Of these sequels, the vodka cup and brandy (now called Winter) are the only ones in production while original No. 1 cup still reigns supreme in popularity.
Ingredients:
3 oz Pimm's No.1®
3 oz Club Soda
Cucumber wheel
Preparation:
Fill a highball glass with ice, add Pimm's and fill glass with club soda. Use the cucumber as garnish add lemon wedge for garnish or just squeeze across the top.