Passion Fruit Punch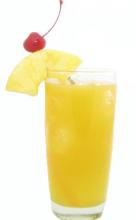 The Passion Fruit Punch is our version of a tropical favorite.  With the passion fruit and pineapple juices, this drink just screams summer!
Ingredients:
2 oz White Rum
1 oz Dark Rum
3 oz Hawaiian Sun® Lilikoi Passion Juice
1 oz of Pineapple Juice
Preparation:
In shaker pour all ingredients into glass with ice.  Shake well and pour into tall collins glass.  Garnish with a pineapple and cherry.  Umbrella optional.