Batches and Punch Drinks
Punches are a great way to have a party without the expense of daunting task of putting together a full bar.  You can also control the proof and offer guests alternative to traditional mixed drinks.  From fun and fruity and warm and tasty we have something for every event!
Brandy Punch: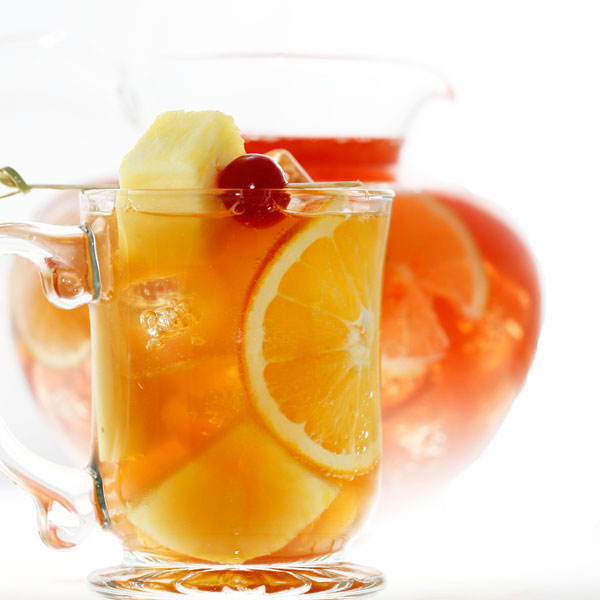 Ingredients:
1 750lt bottle of Champagne or Sparkling wine
2 Cups of Brandy
1/2 Cup of Port
1/4 Cup Maraschino Liqueur
1/2 Cup Fresh Lime Juice
1/2 Cup Pineapple Juice
Sliced Oranges, Limes and Lemons
Cubed Pineapple and whole Maraschino Cherries
Prep:
Mix all fruit, juices and spirits except sparkling wine together and chill for 4 hours.  Right before serving add sparking wine.  Garnish the glasses and leave next to the punch.  Don't add ice, place bowl on ice to keep the punch from watering down!
Hibiscus Punch: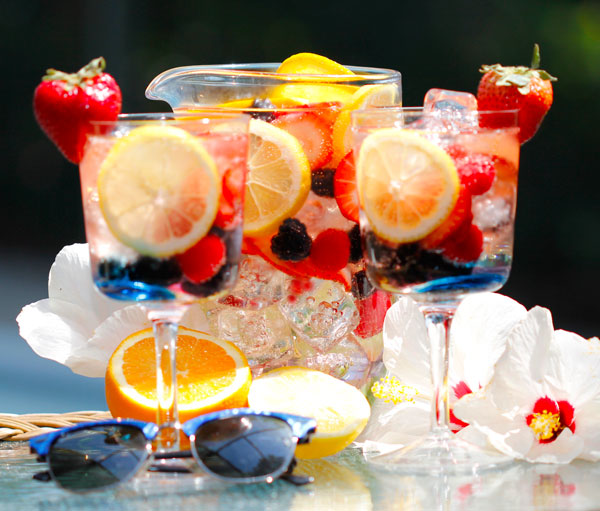 Ingredients:
2 Cups Absolut Hibiscus Vodka
1/4 Cup Hibiscus Simple Syrup - Made by soaking dry hibiscus in simple syrup over night
2 bottles of Prosecco Sparkling Wine
Sliced Lemons Oranges and Limes, Fresh Raspberries, Blue Berries and Stawberries.
Prep:
 Slice limes, oranges and lemons and place them in the pitcher along with ice made from lemonade and fresh fruit.  Add in Vodka, Simple Syrup and berries, stir well.  Add Prosecco or Sparkling wine of your choice.  Pour over ice more berries in a glass.  Garnish with fresh strawberries on the glasses and serve!
Pink Lemonade: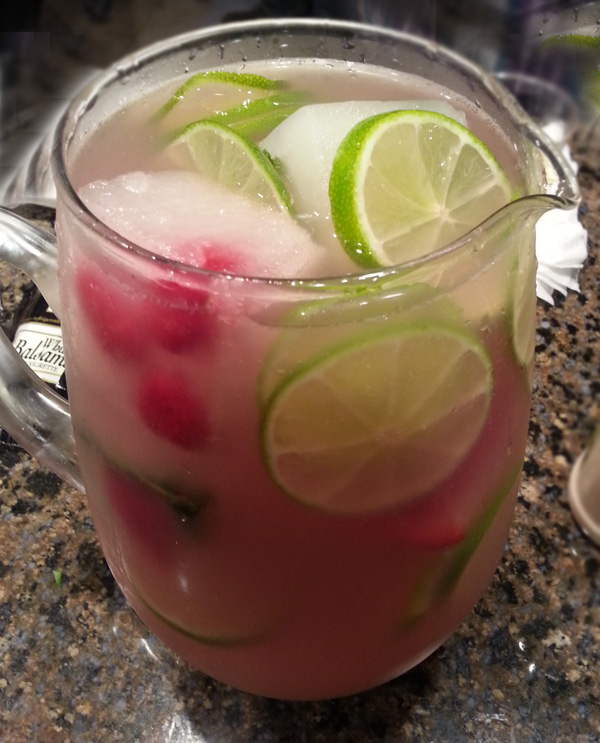 Ingredients:
2.5 Cups Citron Vodka
1/2 Cup Chamborg
5 Cups of Lemonade
Sliced Lemons and Limes
Prep:
Mix up the spirits ahead of time and put in the fridge. Slice limes and lemons and place them in the pitcher along with ice made from lemonade and fresh fruit.  Put lime or lemon wheels on the glasses and serve! 
Carolina Peach Sangria: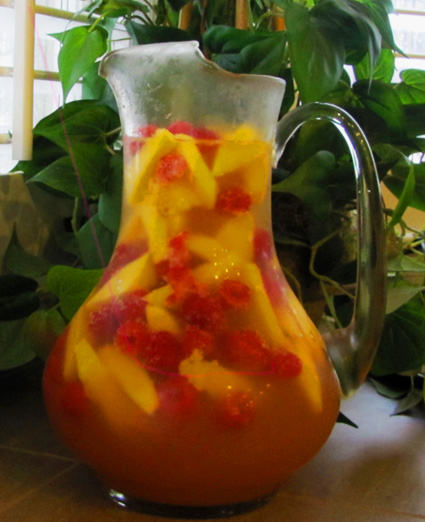 Watch out for this one, you'll never see the Vodka coming.  I was drinking this at a party and wondered why I was talking so much then I stood up and realized why.  This one is sneaky good!
Ingredients
Make about 9 cups

1 bottle rose wine
3/4 cup lemon vodka
1/2 cup peach nectar
6 tablespoons thawed frozen lemonade concentrate
1 pound ripe peaches, peeled and sliced
1 (6-oz.) package fresh raspberries
2 cups club soda, chilled
Prep:
Combine first 4 ingredients in a pitcher.  Stir in peaches and raspberries.  Cover and chill 8 hours.
Stir in chilled club soda just before serving.
White Summer Sangria: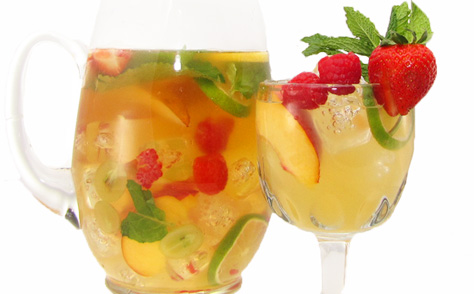 Ingredents:
1 bottle 750lt White Wine
1/4 cup Passion Fruit Juice
1 cup Lime Juice
Fresh Strawberries, peaches, pears, grapes lemons, limes raspberries and mint.
Prep:
In shaker pour all liquid ingredients into pitcher with ice.  Stir well and add fruit.  Chill overnight.  Add ice and serve.  Trick to keep it from watering down.  Use some of the sangria and put it in an ice cube tray.  Freeze and use as ice.  The ice will not water down your sangria and people drink.  Add fruit and garnish to each glass and serve.
New Years Eve Punch: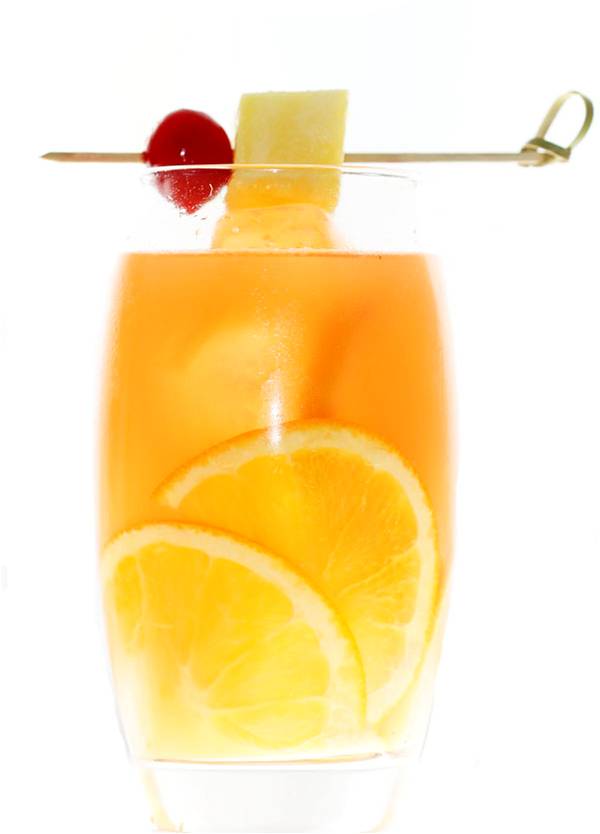 A light fun Punch drink that works up well in a batch. This punch has a fairly low proof but lots of flavor. Nice punch to serve to make sure all your guests have an option to stronger libations. Tastes a lot like citrus fruit punch with just a little tang from the sake. Very tasty. 
Ingredients:
2 Cups Sake
1 Cup Maraschino Liqueur
4 Cups Fresh Pineapple Juice
4 Cups Fresh Orange Juice
2 Cups Fresh Lemon Juice
Makes about a gallon and a half of punch.
Prep:
Mix up the spirits ahead of time and put in the fridge. Slice oranges and lemons and place them in the punch bowl along with 1 jar of strained whole maraschino cherries. Cut fresh pineapple spears or flags and set them up with the glasses.
Bahaman Breeze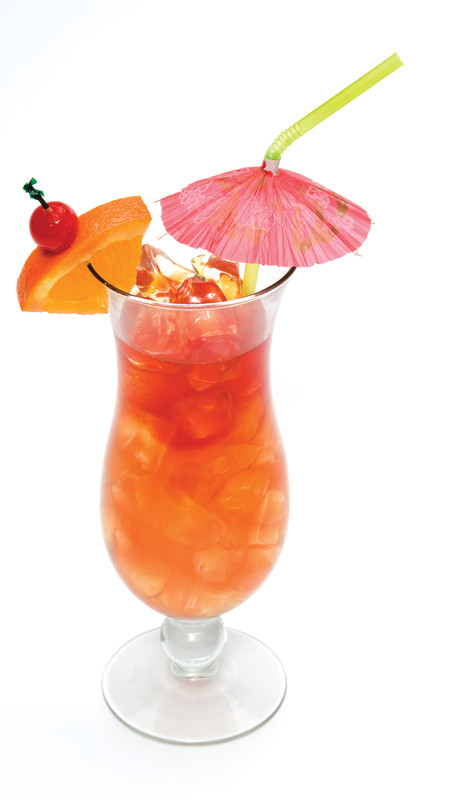 Very Tropical with a nice kick, this punch will be sure to make your party like a day at the beach. Light on mixers and higher proof make sure to serve this with food.
Ingredients:
2 cups Dark Rum
2 cups Coconut Rum
1 cup Apricot Brandy
1 cup Banana Liquor
1/2 cup grenadine
1/2 cup honey
2 cups Orange Juice
2 cups Pineapple Juice
Makes about a gallon and a half of punch.
Prep:
Mix up in advance and chill. Make ice cubes from a mixture of orange and pineapple juice flavored with enough grenadine to turn the ice to a reddish gold. These look so pretty floating in the punch bowl. Prepare sliced oranges and pineapple flags for garnish. Enjoy!
Thanksgiving Spice: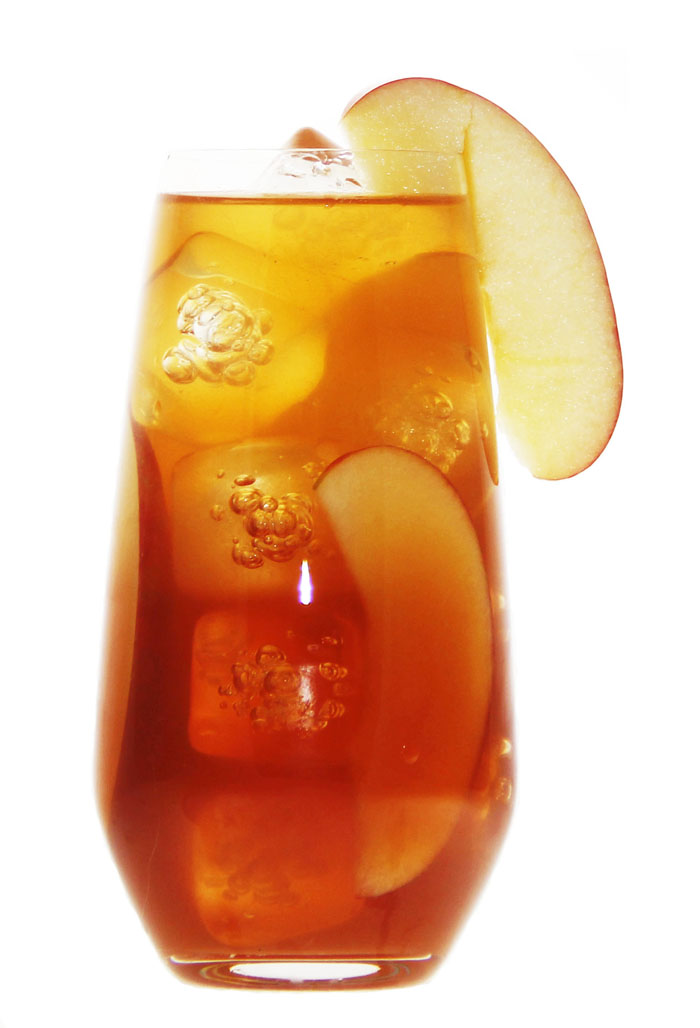 This is the perfect Thanksgiving drink. It goes well before during and after dinner, is low proof, can be served as a punch for a large group.
Ingredients:
2 cups Brandy
4 cups Apple Cider (half gallon)
1/2 cup Aperol
1 cup Cranberry Juice
Makes about 1 gallon of punch.
Prep:
Thin slice apples and drop those into the punch bowl. Pre-freeze Apple Cider in an ice cube tray to use as ice to keep the punch from watering down. Makes approximately one gallon. Add cinnamon sticks as a stirrer if desired.
Stiff Upper Lip: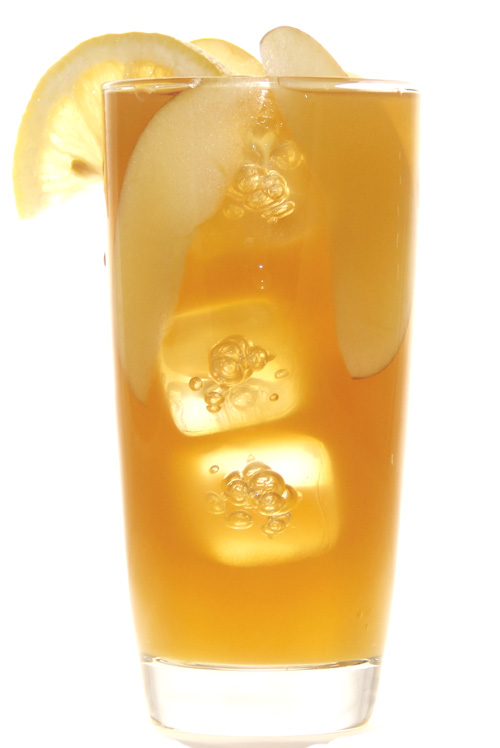 A stronger more adult cider drink Stiff Upper Lip will give you just the opposite if you drink too many. The lemon and gin along with the apple cider makes for a refreshing fall drink. Be aware it packs a punch but doesn't taste like it!
Ingredients:
3 Cups Gin
4 Cups Apple Cider
1/2 Cup Triple Sec
Lemon Slices
Sliced Apples
Makes about 1 gallon of punch.
Prep:
Mix all ingredients together and chill. In a punch bowl over ice add more sliced apples and punch. Serve in prepared punch glasses with thin lemon slices and cinnamon sticks.
Christmas Citrus: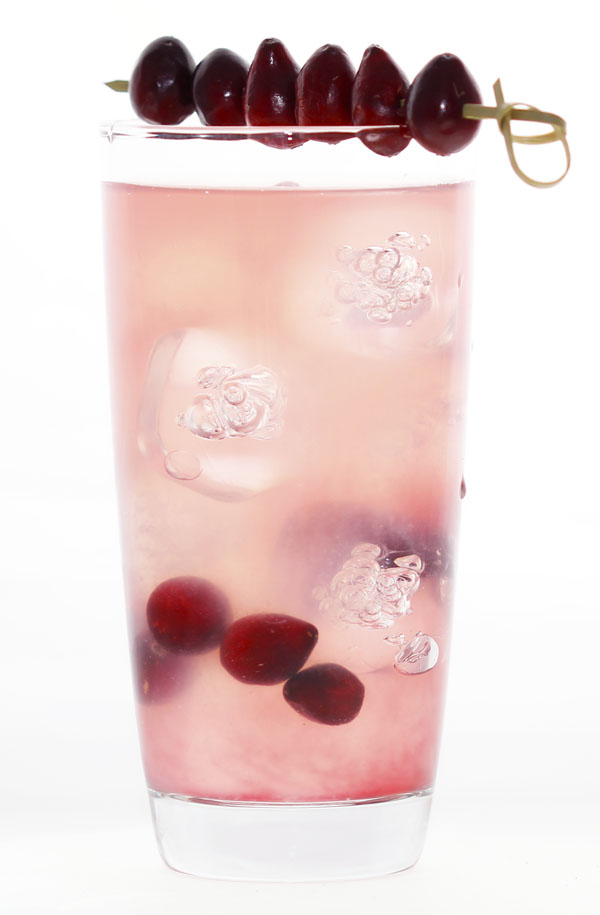 This drink is perfect for the holiday season from Thanksgiving through Christmas. It makes up in a great batch punch for larger groups. Colorful, tasty and beautiful. Everything you want to have for a cocktail party.
Ingredients:
2.5 Cups Cranberry Vodka
3.5 Cups Lemonade
1.5 Cups Cranberry Juice
1 Cup Aperol
Prep:
Mix all liquids together and chill for at least 4 hours. Make ice from equal parts of lemonade and cranberry juice. Thin slice lemons and limes and add fresh cranberries. Place all sliced fruit in the punch bowl and add prepared ice and punch. So beautiful and festive.
Amaretto Cider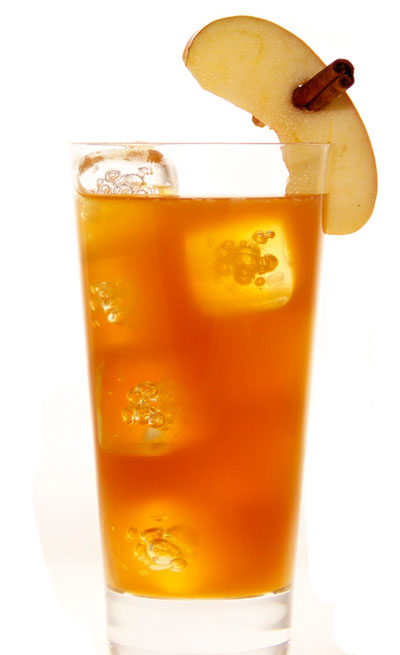 Perfect for a holiday punch bowl and a great fall drink Amaretto Cider hits all the right party vibes. Light, clean not too strong. Add a bowl of sliced apples and set up glasses with a cinnamon stick in each one and let the party begin.
Ingredients:
3 Cups Amaretto
1 Cup Triple Sec
4 Cups Apple Cider
Sliced Apples
Cinnamon Sticks
Prep:
We used Cointreau for a Triple Sec and added apple slices for a wonderful warm punch. Warm your Apple Cider in a crock pot until just before the party starts. Add Amaretto and Cointreau along with the apples. Stir well. You can add a little simple syrup if you need to sweeten. Garnish punch glasses with lemon wheels and cinnamon sticks.
Tropical Lifesaver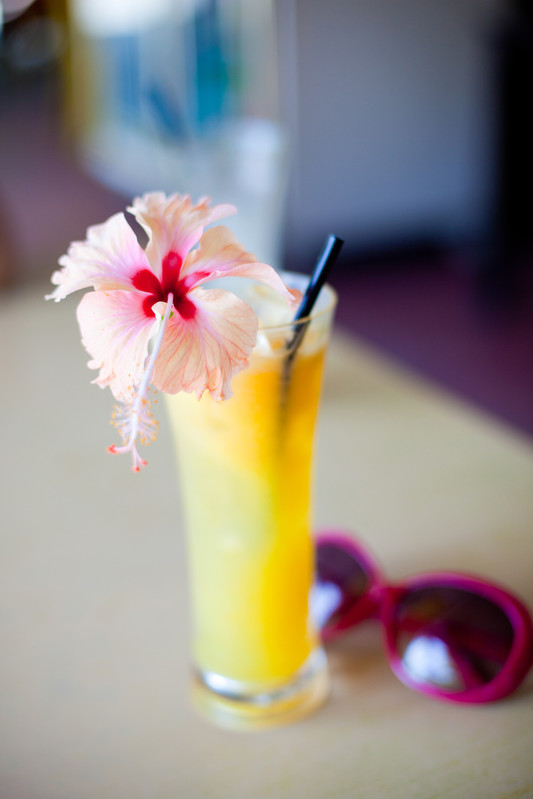 The Tropical Lifesaver tastes just like what it sounds like. Sweet and smooth it is perfect for pool parties and summer outings. Mixes up great as a punch.
Ingredients:
4 Cups Absolut® Citron
2 Cups Malibu® Coconut Run
2 Cups Melon Liqueur
1 Cup Sour Mix
1 Cup of Pineapple Juice
Makes a little over a gallon of punch.
Prep:
Mix all ingredients and chill well. Add sliced pineapple and orange slices in the punch bowl. Garnish with a flower or Hawaiian umbrella!
Zombie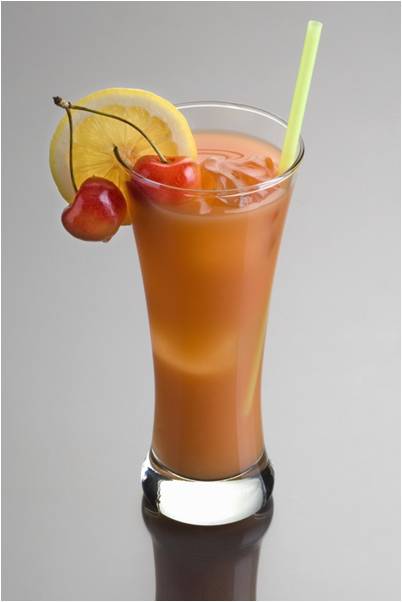 The Zombie is a cocktail made of a variety of fruit juices, liqueurs, and various rums, so named for its perceived effects upon the drinker with the amount of alcohol in them turning them in essence into a Zombie. It first appeared in the late 1930s, invented by Donn Beach of Hollywood's Don the Beachcomber restaurant. It became very popular after an appearance at the 1939 World's Fair. Legend has it that Donn Beach originally concocted the Zombie to help a hung-over customer get through a long day. According to the original recipe, the Zombie cocktail included three different kinds of rum, lime juice, falernum, Angostura bitters, Pernod, grenadine, and "Don's Mix," a combination of cinnamon syrup and grapefruit juice.Due to the popularity of the cocktail during the Tiki craze and the fact that Beach both kept his recipe secret and occasionally altered it, today there are many variations of the Zombie made at many restaurants and bars, some showing few similarities to the original cocktail. We have 2 of our favorites, the Zombie and The Zombie Returns. We suggest drinking these with friends during an evening of watching Walking Dead or any of your favorite Zombie movies, Zombieland!!! They are much more scary or funny depending. Either way it good to make sure you don't have much to do the next day.
Ingredients:
1 Cup White Rum
3 Cups Golden Rum
1.5 Cups Dark Rum
1 Cup 151 (hold to the side)
1 Cup Pineapple Juice
2 Cups Lime Juice
1 Cup Paypaya Juice
1/2 Cup Super Fine Sugar
Prep:
In a punch bowl stir together all these ingredients except the 151. Slice up limes, oranges and use about 1 jar of maraschino cherries and add to the punch. Reserve 151 for adding to the top of each drink as you add them to a glass with ice. Garnish with mint (either straight or dipped in lime juice and then superfine sugar) and/or fruit. Makes about 1.5 gallons.  This one needs a designated driver!