Parisian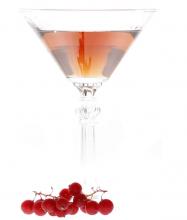 Basically a gin martini with Crème de Cassis, currant flavor, the Parisian's flavor is a little sweeter and fruitier. Great if you need something to take the edge off the gin taste.
Ingredients:
2 oz Gin
1 oz Dry Vermouth
1/2 oz Crème de Cassis
Preparation:
Pour all ingredients into a shaker glass filled with ice.   Shake well.  Strain into a chilled cocktail glass.