Orangesicle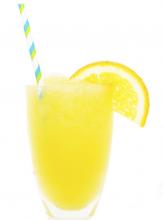 This drink is almost frozen but not quite, with crushed ice and Orange and Vanilla flavors it will have you remembering those hot summers days when you were a kid.
Ingredients:
3/4 oz Orange Vodka
3/4 oz Vanilla Vodka
3/4 oz McGillicuddy's Raw® Vanilla
3/4 oz Cointreau®
4 oz Fresh Orange Juice
Preparation:
Pour all ingredients into a shaker over ice, strain into a highball glass over  crushed ice.  Garnish with an Orange slice.