Orange Cardamom Gin and Tonic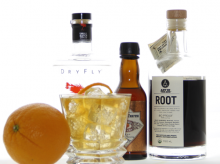 Great winter drink for Gin lovers.  The Root liqueur gives it a botanical spicy flavor like root beer and the Dry Fly Gin has just the right balance, not too much juniper, to blend it all together.  Adding notes of orange citrus makes it the perfect winter drink.  Experiment with the Gins if you prefer a London Dry style but we really liked the smoothness of this drink.  It could convert a few non-Gin drinkers!
Ingredients:
2 oz Dry Fly®Gin
1 oz Root ®
Dash of Orange Bitters
Top with Tonic Water
Preparation:
Blend all ingredients but tonic in a shaker.  Strain over ice in a rocks glass, top with tonic and add an orange twist for garnish.