Orange Buck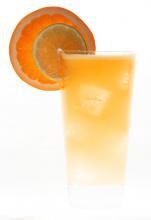 The Orange Buck is a great drink, tart and refreshing. We made this one with fresh squeezed organic juice to it was very tart. If you want more sweetness you can add 1/2 oz of simple syrup for a slightly sweeter taste.
Ingredients:
2 oz Gin
2 oz Fresh Orange Juice
1 oz Fresh Lime Juice
Ginger ale
Preparation:
Pour all ingredients into a shaker glass filled with ice.   Shake well.  Strain into a Collins glass over ice, fill with ginger ale, stir gently and garnish with an orange and  lime wheel.