Mint Julep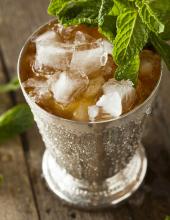 Mint Juleps are a traditional derby drink that are crisp and refreshing while still having a considerable kick for something that goes down so smooth.  This is a great summer drink that is perfect for sipping on your porch on a breezy summer's eve.
Ingredients:
2 1/2 oz Jim Beam® Bourbon Whiskey
4 fresh mint sprigs
1 tsp powdered sugar
2 tsp water
Preparation:
Muddle mint leaves, powdered sugar and water in a highball glass.  Fill the glass with shaved or crushed ice and add bourbon.  Top with more ice and garnish with a mint sprig.