Midori Sour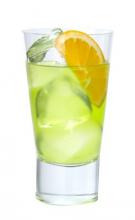 A sour is a traditional family of mixed drinks; the word itself is often used as a post-positive adjective when in the name of a drink. Common examples of sours are the margarita and the sidecar.
Ingredients:
1 ½ oz Midori® melon liqueur
1 oz sour mix or 1 ½ lime and lemon squeezed
Preparation:
Into a mixing glass, add ice cubes then pour in the Melon Liqueur and Sour Mix.  
Shake and pour into a highball glass.