Midnight Mixologist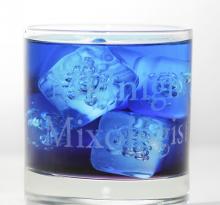 Midnight Mixologist - A fun drink that looks as good as it tastes with Vodka, blue Curacao and vanilla liqueur.  We thought it reminded us of the sky at midnight!
Ingredients:
2oz Citron Vodka
1 oz Blue Curacao
1 oz Vanilla Liqueur
1 oz Cranberry Juice
Preparation:
In a shaker over ice mix all ingredients and then shake till well chilled.  Pour into an rocks glass with ice.