Mauna Kea Punch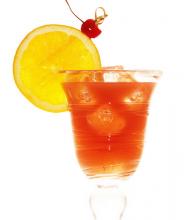 This is the drink that started it all. A group of friends vacationing on the Big Island of Hawaii decided to start this website. It was our love of cocktails or maybe just a few too many Mauna Kea Punches!
Ingredients:
3 oz White Rum
1/2 oz Brandy
4 oz Guava Juice
2 oz Passion Fruit Juice
Preparation:
Add all ingredients into a shaker with ice. Shake well and pour into a large glass with either a pineapple or orange and cherry flag.