Mango Daiquari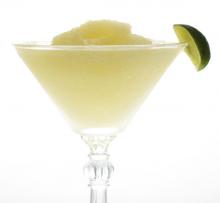 Nothing says summer like a Daiquiri!  This Mango Daiquiri is not only fun but it has a wonderful taste that is light and fruity without being coy.   The fresh key lime juice helps enhance the flavor of the mango and give it a nice tart back taste.
Ingredients:
2oz Mango Rum
1oz Mango Juice
1 oz Fresh Key Lime Juice
Ice
Preparation:
In a blender with ice, combine all ingredients. Blend till smooth and frozen. Garnish with a slice of key lime.