Mandrake Bar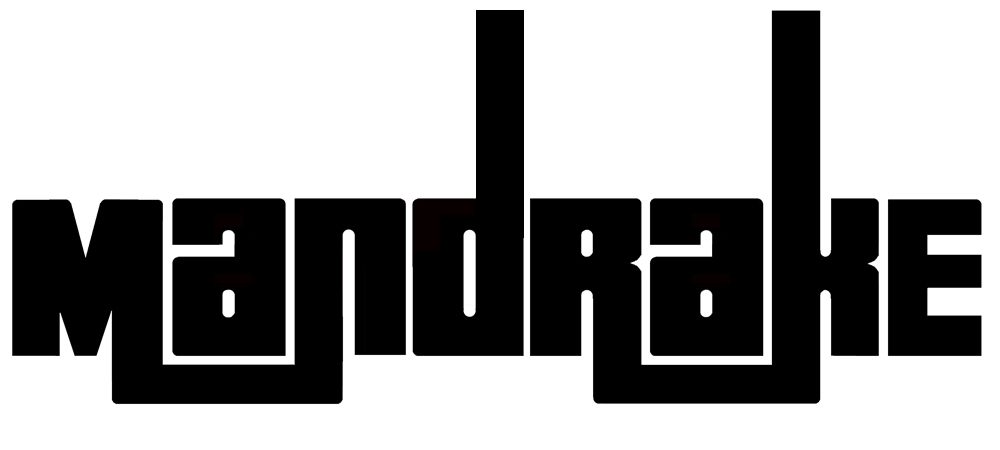 The area around Washington and La Cienega in Culver City is full of little art galleries. On any givenFriday night, you can
peruse gallery openings and receptions. Flit from door to door to experience
modern paintings, photography, and sculpture with the mid-city/westside crowd.
Among these galleries you can find Mandrake Bar. Be careful not to miss the modest signage out front.
It's just a small sign on a white adobe building, and an unmarked door leading you inside.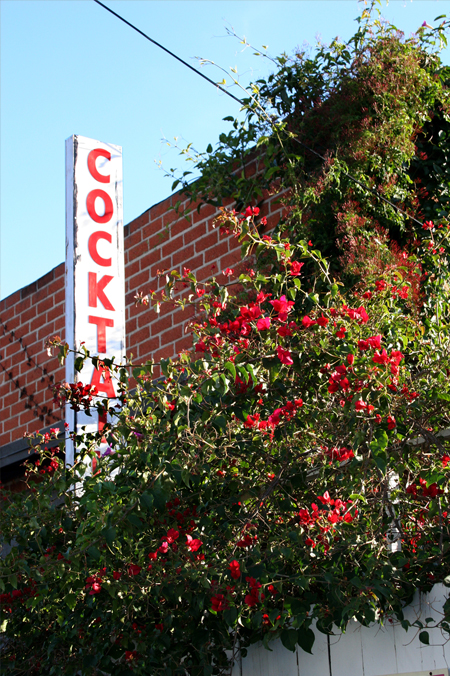 Inside the bar, it's concrete floors with a church pew-style bench lining the wall across from the bar. It's
a long skinny building. Think East Coast city townhouse. Go straight back past the bar to an enclosed
patio with bougainvillea and picnic benches.
Mandrake has a chill atmosphere and low-lighting, but it still feels hip and happening.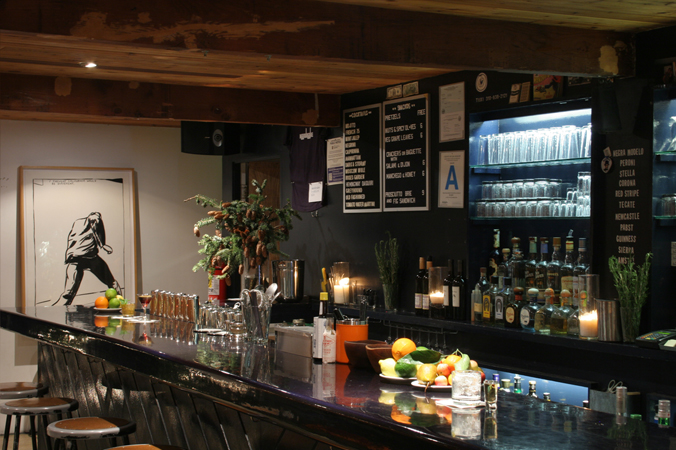 There are flyers on the wall advertising upcoming concerts. Readings, book release parties, and musical events are often
held here.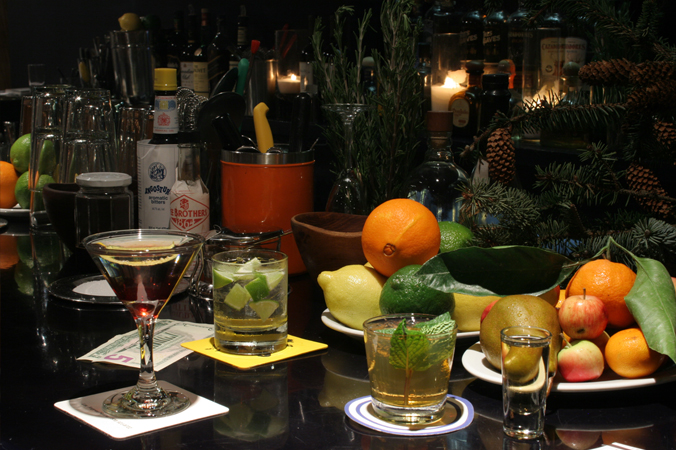 Show up at happy hour, any time between 5 and 9, and get $7 cocktails. A few of the choices offered
include the French 75 (gin, lemon juice, sugar, and prosecco) and The Stranger (bourgon with Campari,
lemon and sweet vermouth). Go for classics like the Caribbean-inspired Dark and Stormy rum and
ginger drink. Or a Manhattan, Old Fashioned, or Moscow Mule. But if you're feeling dangerous, spring
for the Habenera. It's habanero-infused Hornitos tequila, Corralejo Reposado, grapefruit and lime.
Spicy, bitter, and citrusy to whet your appetite. Just what the perfect cocktail should do.
And once your appetite is whetted, munch on the snacks that Mandrake offers. It's just munchies that
are meant to tide you over. Olives, nuts, cheese, crackers, and honey. But the portions are generous for
the prices.
The bartenders are friendly and laid-back, ready to make you any cocktail you ask for, from their wide
selection of spirits behind the bar.
2692 S La Cienega Blvd Los Angeles, CA 90034
(between Venice Blvd and Washington Blvd)
telephone:
mandrake is a strictly 21+ venue
for booking inquiries, please contact us by email

now open on monday 6pm - 12am
Tuesday - Thursday 5:00pm - Midnight
Friday + Saturday 5:00pm - 1am
Sunday + Monday - 6:00pm - Midnight
By Lauren Eggert-Crowe