Man Of The Moment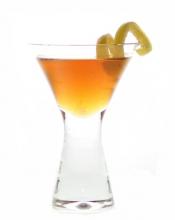 The Man of the Moment may look like it will only take a moment to drink, but be warned this cocktail is best enjoyed sip by sip, don't let yourself be taken out in just a moment!
Ingredients:
2 oz Scotch
1 oz Grand Marnier®
Splash of grenadine
Splash of fresh lemon juice
Preparation:
Pour all ingredients into a shaker glass filled with ice.   Shake well.  Strain into a chilled cocktail glass, garnish with a twist.