Madras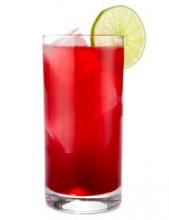 Madras is a great summer drink that shares a lot with the breezes and cape codder's.  The difference is there are two fruit juices orange and cranberry added to Vodka.  Add a squeeze of line and you have a great summer drink.  Versatile moving from brunch to late afternoons by the pool this is a drink that everyone should have in the recipe portfolio.
Ingredients:
1 1/2 oz Vodka
4 oz. cranberry juice
1 oz fresh orange juice
Preparation:
Fill a high ball glass with ice. Pour the vodka, orange juice and cranberry juice over the ice. Garnish the edge of the glass with the lime wedge or wheel.