Lump of Coal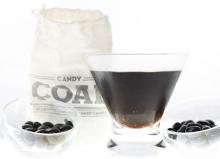 You might be tempted to be naughty just to get Santa to leave you this lump of coal!  Jagermeister Spice, Absinthe and Black Vodka make this a herbal intense drinks!
Ingredients:
1 1/2 oz Black Vodka
1 oz Jagermeister® Spice
Dash of Absinthe
Preparation:
Pour all ingredients into a shaker glass filled with ice.   Shake well strain into a up glass.