Los Olivos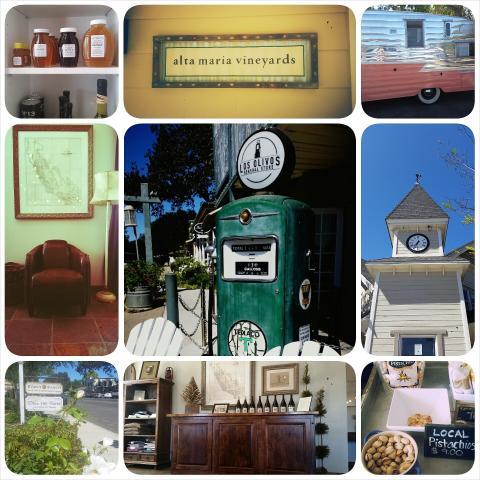 With a four day weekend coming up, my significant other and I wanted to plan a getaway. We had been up to Sonoma before and absolutely loved wine country. We loved touring the various estates, chatting with the tasting room pourers about the wine, dining out at gourmet restaurants, buying souvenir bottles of wine or olive oil or boxes of chocolate to take home with us. But we didn't have time to make the 10 hour drive from Los Angeles to Sonoma County.
An article in LA Weekly tipped us off to the quaint little town of Los Olivos, just north of Santa Barbara. Over three dozen wineries were represented all within a few square miles! This, we had to see.
Lucky for us, we found a charming Airbnb rental called Coyote Ranch, a sprawling villa perched high atop the Santa Ynez hills, with breathtaking views of the valley, San Marcos Pass, and all the way out to the ocean.
Before we left, we did our research to find our top priority wineries to check out. Needless to say, we didn't get to all of them, but we did manage to visit Demetria Estates, Alta Maria Vineyards tasting room, and Coquelicot. On our next trip, we plan to check out Dragonette, known for their Sauvignon Blanc & Pinot Noir, Tensley, for Pinot Noir & Syrah, and Longoria, for Chardonnay.
Every website and review pointed us in the direction of Sides Hardware & Shoes, the flagship gourmet restaurant in Los Olivos. We were not at all disappointed. We also heard great things about the Wine Merchant Cafe, particularly its fame in the 2004 film SIDEWAYS.
Central California offers much in the way of outdoor recreation, and we were excited for our hike in Gaviota State Park to see the wind caves, huge limestone formations that have been carved into echoing caves by wind erosion. As we hiked up through the chaparral up to the crest of the ridges, we could see the glittering Pacific Ocean, and the curve up the coast as it stretched down to L.A. So close to our home in the city, and yet a world away.
Looking to travel up to wine country? You need not trek all the way to Napa, or even make the four-hour drive to Paso Robles. A rich wine region exists just outside of Santa Barbara, and the many estates of the area offer their favored vintages in the small, quaint town of Los Olivos.
Over three dozen tasting rooms are concentrated in the space of one sleepy intersection nestled in the Santa Ynez hills. Wine aficionados come here to stroll the streets and taste the many appellations grown in the surrounding hills. If you're planning a trip to Los Olivos, here are a few standout wineries:
Alta Maria
Alta Maria's stately and elegant tasting room looks like a beautiful Anthropologie ad. Classy leather recliner chairs rest atop a cowhide rug in the center of the stone tiled floor. Vintage pre-statehood California maps hang on the wall. The charcoal drawing label art on the wine bottles is inspired by the hand-hewn nails used by homesteaders in the valley before the Industrial Revolution. It all contributes to a rustic feel for this organic winery. For $10, try five of their wines. You'll hear much about their Carbonic Maceration process when you try the Cru Beaujolais 2013 Pinot Noir. This red is fermented with whole cluster grapes without crushing or pumping over the free draining juice. The result is an oxygen-rich feel with a strong mineral finish and a very distinctive stony nose.
http://www.altamaria.com/about
Coquelicot
Pronounced Ko-KLEE-Ko, this organic vineyard is named after the French red poppy. Buy a $10 tasting, try 9 wines and get a free wine glass! I was especially taken with the 2011 Sangiovese, a big, elegant wine with hints of berry, chocolate, and vanilla. Another highlight was the 2009 Sauvignon Blanc, an unoaked white with abundant and varying citrus notes and a long, slow finish.
http://www.coquelicotwines.com/
Demetria
Demetria's wines are best experienced with a tour of their broad-sweeping pastoral estate in the hills above Los Olivos. For $20 and a reservation, receive a tasting on the picnic grounds of their estate. Take a seat at one of the picnic tables underneath the oak trees and gaze at the rolling Santa Barbara hills striped with grape trellises as the winemakers come around to pour about six or seven tastings of their recent appellations. Listen to live acoustic folk as you sip. Afterwards, take a walk on the 1.5 mile trail that circumnavigates the vineyard. Some highlights to taste include their 2012 Cuvee Papou. The "stony, mineral-tinged undertow" is very evident in this Cotes du Rhone blend Marsanne, Roussanne, Grenache Blanc & Viognier. I could also definitely taste the grapefuit zest notes. The 2011 Pantheon, a GSM blend highlit with Rhone whites was smooth and berryful with long legs.
http://demetriaestate.com/
An old hardware store that's now a fantastic gourmet restaurant is also in the charming little town of Los Olivos, California.
Sides Hardware & Shoes, owned by two brothers, is just a half block from the main square in Los Olivos. Inside the quaint old building is a bar and award-winning upscale restaurant.
If the weather is nice enough, get a table on the front porch and watch the sunset over the oaks and walnuts of Los Olivos. No reservations needed, but they are recommended, especially during the tourist season, when this place is one of the hottest destinations in the town. Our server was just fantastic. Very friendly, knowledgeable, and full of good suggestions. We couldn't resist the specials that she presented to us. For an appetizer, we ordered the spicy fried seabass collars, a crunchy and peppery fingerfood served atop shaved fennel and marinated tomatoes. They were absolutely delicious. We also enjoyed the Baby Gem Salad, a root vegetable celebration of beet, radish, and carrot on basil blossoms, drizzled with parmesan and lemon garlic dressing. The lemon and parmesan lifted the earthy flavors of the roots for a very refreshing crunch.
The entree menu is very meat-centered: Pork Cheek, Fried Chicken, Striped Sea Bass, Colorado Lamb Sirloin, Diver Sea Scallops, Mussels, Prime Top Sirloin, Duck Breast. But vegetarians will love the fettuccine with wild mushrooms, parmesan and slow-poached egg. Otherwise, carnivores should dig in, because you can't go wrong with any choice. Sides does fish, fowl, and mammal well.
For an entree, the Scottish Salmon with potato galette, summer squash, dried olive & red bell pepper coulis was perfect. The meat was perfectly cooked and very tender. It was paired very well with the Melville 2013 Viognier from Santa Barbara County. As you can imagine, Sides knows their wines, like any restaurant in Los Olivos would. The wines poured here, by the bottle and by the glass, are mostly local vintages from the Santa Ynez Valley or elsewhere on the Central Coast, although they do also offer a bottle of Pol Clement's Blanc De Blancs, for those guests in the mood for something sparkling and Old World.
For dessert, we had the macaroon sandwiches - dark chocolate & coconut swirl sorbet with almonds. The sorbet was deeply chocolatey and smooshed between two flakey coconut macaroons. A perfect finishing note after all the meat and savory entrees. We paired this with a relaxing, sweet, and rich tawny Port.
Enter the Wine Merchant Cafe in Los Olivos and you may recognize their famous wall of over 500 wines from the 2004 film Sideways. The Wine Merchant Cafe began in 1995, when Sam Mamorstein decided to start his own vineyard and wine-making business. As his four-acre estate was growing, he opened the Los Olivos Cafe with the hopes of turning it into a respected and attractive restaurant serving the best food and wines in the valley. Now guests are welcomed into the homey, cozy atmosphere of the Wine Merchant and treated to fresh and flavorful food along with local wines, including some that were made by Mamorstein himself, on his Bernat Wines estate.
We began our meal with the marinated olives - nine varieties of meaty, juicy, pungent olives from the Mediterranean. The artisan cheese plate served a variety of three cheeses, of the cow, goat, and sheep variety - some sturdy and pungent, others soft and blue or creamy, along with pecans, figs, and fresh apple slices.
We decided to go with a Greek theme, and opted for the Mykonos Pizza and the Greek Salad. The Pizza was topped with pesto, oven-dried tomato, tapenade, feta, cucumber, and four-cheese. The fresh cucumber was a really nice touch. Paired with this we had the wine flight of 2010 Grenache Blanc, the 2009 Sangiovese, and the 2008 Syrah, all from the Mamorstein Estate. We'd say that the wine we tasted that night was the best wine we had tasted in the city that weekend.  The Sangiovese in particular paired perfectly with the pizza and the salad.
For dessert, we opted for the S'mores in a frosted glass. I had never tried vertical S'mores before but I liked excavating through the class for the layers of chocolate ice cream, flourless chocolate cake, gingery graham crackers, honey, and toasted marshmallow fluff.
Patrons of the Wine Merchant & Cafe can also opt for the Sideways Tasting Menu, a prix fixe dinner that comes with your choice of the house Chardonnay or Pinot Noir (fans of the movie will remember this grape as the favorite of Paul Giamatti's character), soup or seasonal salad, salmon, pot roast, or ravioli, and a dessert of Chocolate Scream. All this for only $35.
Hope this gives you some great ideas to plan your weekend away of food, spirits and wine.  And let's not forget good friends!  Lauren Eggert-Crowe