Literary Cocktails
Lauren Eggert-Crowe
Don't get me wrong, I love to gather a crowd of my friends and order a few rounds of drinks at a lively neighborhood joint. Drinking socially is a blast, even if it's sometimes hard to hear each other over the house DJ. But plenty of times I prefer to lounge, peacefully and solitarily.
I haven't yet found a reading-friendly coffee shop in Los Angeles. The study-environment cafes are usually crowded with students who have set up their laptop encampments at every table. Besides, I don't really like to sit in a chair and hunch over a desk when I want to dive into a good book.
So that's why it's nice, on an off night, to find a relaxing lounge, an unclaimed couch, and order a cocktail and crack open a book. Here are some of the best places I recommend for alone time with Jameson and James Joyce.

An exquisite rooftop bar in the heart of Downtown L.A. Enjoy panoramic city views and breathtaking sunsets while curling up on one of the sofas by a glowing fire. Appropriately enough, Perch's cocktail list is literary themed. Enjoy a Hemingway On the Beach (Greenalls, luxardo, lemon, and angostura) or a My Fair Lady, which boasts Fair Quinoa Vodka as its main ingredient, plus cranberry, lime, and crème de peche. The Lolita and the Writers Block are both Vodka/St. Germain cocktails, while the Spicy Concombre has a gin/jalapeno/lime/mint combo working for it.
The book to bring along: The Big Sleep by Raymond Chandler. Day of the Locust by Nathaniel West
448 South Hill Street Los Angeles, CA 90013
Telephone: 213-802-1770
Beer, snacks, records. 
Open weekdays 6 pm - 2 am, weekends 2 pm - 2 am 
1805 W Sunset Blvd. Los Angeles, CA 90026 
Just to be clear, this place is thronged and deafening on a weekend night. But on a slow night (or early on a Saturday or Sunday – they open at 2pm)  make your way through the red velvet curtains and grab one of the candlelit high tables in the alcoves by the door. Choose from a selection of craft beers, wines, and snacks.
The book to bring along: The Madonnas of Echo Park by Brando Skyhorse.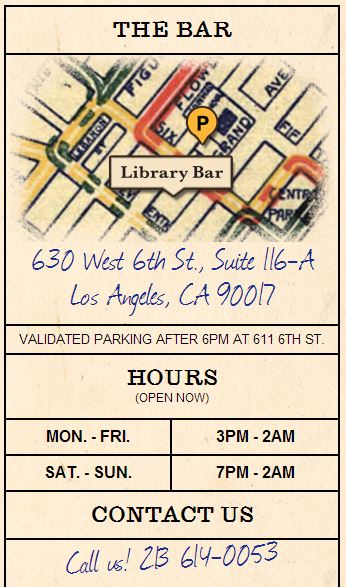 An obvious choice for this list, the Library Bar is one of those darkly lit caverns that makes you feel like you wandered into Sherlock Holmes's house. Bookshelves lined with old books cover the walls. You can stake out a reading spot in one of the corner benches and order a Kerouac Basilica, a Poe's Reviver, or a Brecht's Boulevard.
The book to bring along: A good Agatha Christie mystery

I'd be remiss if I did not include a shout-out to one of my favorite bars ever. This is the recommendation for the weekend you decide to take a trip out of Los Angeles. The 515's upstairs lounge has those plush couches and arm chairs that you just want to sink into and never get up from. There's even a private curtained room you can reserve for small groups. All of the 515's cocktails are literary themed, and the servers bring you your check tucked into the pages of an old book. My favorites are The Flannery (house-infused cucumber vodka, st. germain, lemon juice, mint, orange bitters, house sparkler) and the unapologetically fruity Holly Go-Lightly (stoli citrus, ventura limoncello, lemon juice, simple syrup, muddled raspberries, sugared rim).
The Book to Bring Along: Serve it Forth, by MFK Fisher
Lauren Eggert-Crowe