Lemonade Lush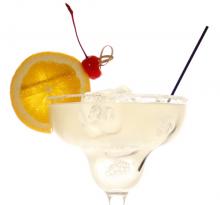 Lemonade Lush is a lemon twist on a margarita. Less on the lime side and more on the sour lemon side this drink is a great counterpoint to the traditional margarita.
Ingredients:
1 1/2 oz Tequila
1 1/2 oz Triple Sec
2 ½ oz Lemon Juice
½ oz fresh Lime Juice
1 oz simple syrup
Preparation:
In shaker glass with ice pour Tequila, Triple Sec, lemon and lime juice and Simple Syrup. Shake well and strain into a sugared margarita glass filled with ice. Garnish with a orange wheel and cherry.