Kryptonite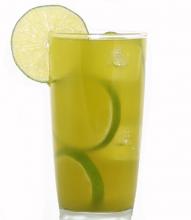 You may feel like a bird or a plane after this drink. It's a little green and a little strong. It's a good summer drink with lots of rum or for a Halloween punch that looks more than a little strange but tastes really good. Enjoy carefully!
Ingredients:
3/4 oz Captain Morgan ® Original Spiced Rum
3/4 oz Midori®
3/4 oz Malibu ® Coconut Rum
3/4 oz Pineapple Juice
Splash Bacardi® 151 Rum
Preparation:
Pour all ingredients into a shaker glass over ice and shake. Pour into a tall glass, additional pineapple juice, and garnish with a pineapple wedge. Or strain and serve in a chilled cocktail glass and garnish with a lime wheel.