Knickerbocker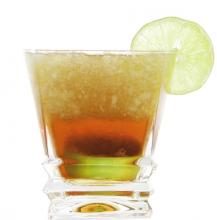 Ingredients:
2 1/2 oz Golden Rum
1/2 teaspoon Orange Curacao
1 1/2 teaspoons Raspberry Syrup
1/2 ounce lime juice
Preparation:
Shake the rum
,
raspberry syrup
,
orange
curaçao
, and lime juice well with cracked ice. Place squeezed-out shell of half a lime in a
large
Old-Fashioned
glass. Fill the glass with crushed ice and strain in to glass.  Serve
with a straw and a little spoon for the berries.