Kiwi Spring Lemonade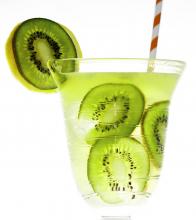 Kiwi Spring Lemonade - Fun to look at this Kiwi Spring Lemonade has citrus Vodka and Chartreuse for a herbal twist on the classic lemonade.  Not only does it make it more interesting but it keeps it from becoming too sweet!
Ingredients:
2oz Citron Vodka
3/4 oz Green Chartreuse
3 oz Lemonade
1/2 oz Key Lime Juice
Preparation:
In a shaker over ice mix all ingredients and then shake till well chilled.  Pour into a tall glass with ice and garnish with a kiwis and key lime wheel.